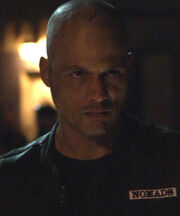 Happy Lowman is a fictional character on the FX television series Sons of Anarchy, played by real-life Hells Angel David LaBrava. He is Enforcer for Sons of Anarchy Motorcycle Club, and is affiliated with the Tacoma, Washington chapter at the beginning of the series, but later becomes a Nomad, meaning he has no permanent chapter. As of the episode "The Push", he is now an official member of the Redwood Original. As of Season 6 he is the Sergeant-at-arms for the mother chapter.
Biography
Edit
Happy or "Hap" as called by SOA members is an enforcer for the Sons of Anarchy Motorcycle Club, and, along with Tig Trager, is commonly used to carry out the gang's murders. He is from Tacoma, Washington but frequently visits the club's chapter in Charming, California where he has a good relationship with the President, Clay Morrow. It is likely that he is originally from California himself, as he mentions that his mother is from Bakersfield. A heartless assassin, he has been shown to enjoy acts of violence that even other members of the club are disturbed by. He has a happy face tattooed on him every time he kills someone. On his cut, he wears patches reading "Sgt. At Arms", "Unholy Ones", "Men Of Mayhem" and "In Memory of Opie".
Season One
Edit
Happy appeared in the first episode ("Pilot") at "Church", a club meeting. The Mayans, a rival motorcycle gang, had stolen the club's guns and burned down the weapon storage warehouse. However, Juice Ortiz, the club's intelligence officer, had re-located the guns in San Leandro. The next night, Jax Teller, Tig Trager, Chibs Telford and Clay Morrow stole the guns back from an industrial storage warehouse. They also killed two Mayan guards before destroying the warehouse and a heroin factory.